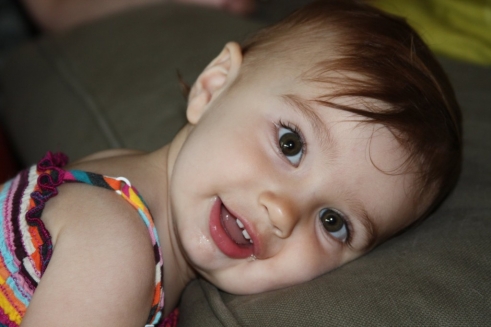 Wow – turns out, one year goes by REALLY fast! Our baby girl is a whole year old! To celebrate, we decided to take Bella on her first trip to the zoo. She really enjoyed it, and in fact, we decided to get a membership, so that we can go back anytime we want over the next year and really explore. There were two big highlights of the day. 1> the polar bear: It was playing with a big ball in the water – dribbling it, actually…and we got right up close to the glass. His paw was SO big – Bella was in awe (as well as everyone else watching…you really couldn't help but be fascinated) 2> A baby gorilla: I love the chimpanzees, and in my quest to find them, we came up the the gorilla viewing area (which is equally entertaining) There happened to be a baby gorilla goofing around in the camp, and it came right up to the window to take a peek at all the people looking in. It was strolling along, not really paying all that much attention to anyone, but when it got to Bella, it stopped right in its tracks as if to say hello! It was really cool. There happened to be a zoo volunteer nearby, and she told me that the gorilla always stops to look at the babies. What a treat for us!! We only spent a few hours at the zoo, but we saw lots of primates, zebras, polar bears, elephants, condors and even meerkats. We came home and ate cake with the neighbors and Bella opened her presents. Overall – it was a great day!
Bella went to the Dr. this week for her one year well checkup. Here are her stats:
Height: 32.25 in (off the charts)
Weight: 19 lb 12 oz (25%)
Dr says she is doing great and right on track. I started the weaning process last week, and she likes whole milk well enough, so hopefully it won't be to painful for her. Here is an example of our current routine:
7am- wake & nurse
8am-breakfast
11am-big morning snack
Noon-2:30pm-nap
 2:30-big afternoon snack
6pm-dinner
6:45-bath/bedtime routine
7:30-asleep
We are in the transition phase for naps right now, so sometimes we have a short one at 11 am and another around 4 – but I am really working on one long nap per day so that we can stick to a 7:30 bedtime. Bella is having some separation anxiety at night right now, and seems to want to be held a bit more to be calmed to go to bed, but that is ok – I figure it is just part of the weaning process. It is quite an exciting time, as we are trying new foods (tried eggs this morning – she seemed to like them), she is becoming more independent (for the good and the bad – sometime it would be so much easier if mommy could just do it – especially around mealtimes…but I guess that they have to learn somehow), and she is understanding and responding so much more. It seems she learn a new word every week (this week was car…), and her favorite thing to do right now is blow kisses (at everyone and everything). I gave her a baby doll for her birthday that she can feed with a bottle and it makes a sucking sound – and she LOVES to do that (as well as feed every other stuffed animal in the room, even though they don't respond!) 
I created a (psuedo) baby book for her for her birthday (it doesn't have all the stats- those are here, but there are lots of fun pictures) – please feel free to take a look – click here!
More adventures coming soon….