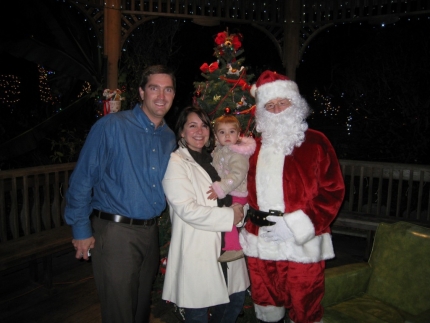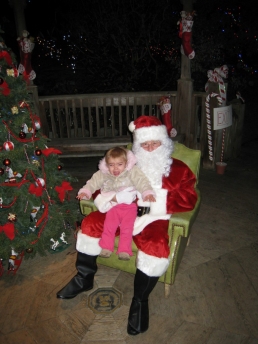 As usual, the holidays have crept up on me – and I've been behind on everything, including the blog of course….but now I'm catching up. I think I am more in the Christmas spirit this year than I have been in years, mostly because of our darling daughter. We have a tree up (artificial…much to Jeremy's dismay…but he is being sweet about my allergies…), and I've been playing the Christmas music channel in the house 24/7. For once, I've actually finished all of my Christmas shopping before we leave for Texas…and now I am just relishing the holiday festivities. We've gone to the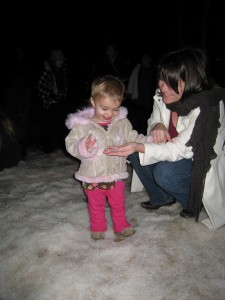 botanical gardens twice (the first time we forgot a camera) for their Garden of Lights. They have Santa, beautiful lights, mulled wine, music, horse pulled wagons, marshmellow roasting…and even snow one of the nights we went. It is a perfect way to spend the evening and really get in the mood. Even though we have a Santa doll for Bella at home, and Kristine has taught her that Santa says, "Ho, Ho, Ho!" (it's really funny) – she still just wouldn't warm up to the big guy…but that is ok, she loved the horses and the snow – so I think that made up for us torturing her with the photo. I really want to make this our new Christmas tradition!
We've been letting Bella open presents that my mom has sent out early this year (as she doesn't really understand Christmas yet). I think she likes the act of tearing open the wrapping paper just as much as the toys inside! It is going to be a really fun week… I really don't have anything that I want for Christmas this year except good health for everyone in our families. We leave for Texas next week…and we are so fortunate to get to see our families during the holidays this year. Both my dad and Jer's mom are dealing with cancer issues at the moment – so it is even more special to get to see them…Bella will definitely be able to bring some "Ho Ho Ho-liday Cheer" to the festivities…I feel like we have so much to be thankful for.
As usual, no Christmas Cards from the Neill Family…(one of these days I will get on top of that)…so right here, right now, I want to wish you Very Happy Holidays and Hope, Peace and Happiness for Your New Year!
I just downloaded some of the photos from our camera (some are from a few months back)…so I am going to post a few pics here too….
These are from our Central Coast Trip…the hike, then feeding the animals at Avila Valley Farms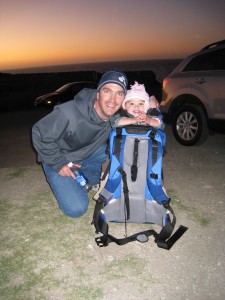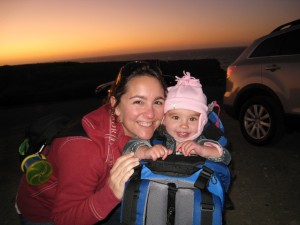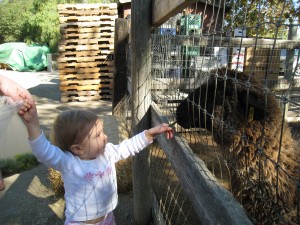 This one is from when Grammy visited for Thanksgiving. She let Bella do some finger painting with pudding/whip cream…mmmmmmmmm yummy!