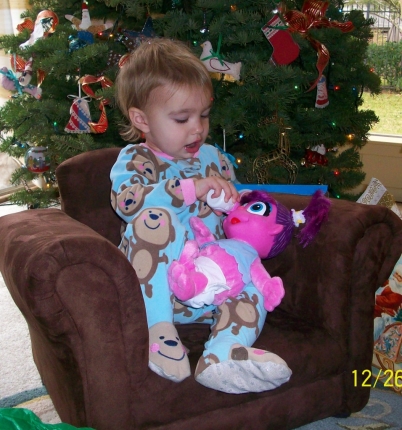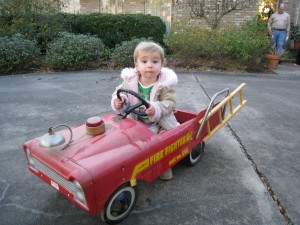 I feel like 2010 is already rushing by me. I can't believe it is already almost February. I've been really behind on the blog, so I want to do some catching up today. We went to Bella's One and A Half Year Well Check Up today – and I can't believe she is already our little toddler.
So…lets start with Christmas. We had a really nice visit in Texas. We were blessed to be able to see so much of our family – only missing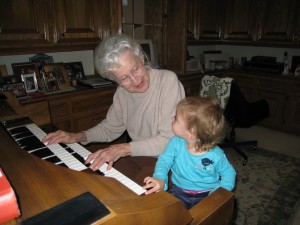 Uncle Charlton and Cousin Chandler (who we hope to catch up with soon this summer). Bella was spoiled rotten by all of her relatives 🙂 and showered with tons of great presents. While she loves all of them – she is really into music right now – and the music player Dee Dee got her currently goes wherever we go (stroller, car, traveling…) it has become mommy's favorite toy too..:) *I no longer have to have a childrens CD in my car running full blast! She also loves to serve all her new dollies tea. We will sit Abby, Baby, Bessy, her Giant Dog and Elmo on the couch and serve them all kinds of
yummy tea cakes, play food and tea…She is really into taking care of all of her dolls right now. She likes to feed them, diaper them, dress them (with help of course), etc – she even has a dolly she takes in the bath. Another hit is her new chair – Bella really enjoys having a piece of furniture that is her size in the room! It even keeps her from climbing on the couch as much…I'm pretty sure that all her new toys will be plenty to keep her happy for the year – what a lucky girl she is!
She is talking up a storm…I can't even count the number of words she says anymore – as it seems like we get a couple of new ones everyday (even though the pronunciation isn't quite on…) She likes to mimic the last couple of words that I say – its really cute. My favorite word at the moment is  "Allright" – she uses this alot instead of saying yes. I absolutely love it – she sounds so grown up when she says it. My least favorite word at the moment is "NO". She learned this one last week – and now any question you ask is immediately answered with a NO. I know it is a phase that will pass – and I'll be excited to see this one end (unfortunately, I think I have a couple of years to wait).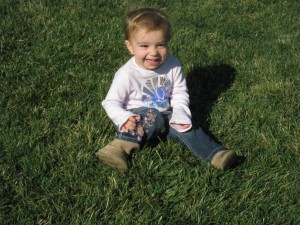 She is definitely entering toddlerhood….she is RUNNING all over, asserting her preferences on everything from food to jammies to where she wants to go in the car (PARK! always…). She has learned to throw a tantrum, and even likes to pee in the potty every night…even though I know it will be a challenging stage, she is still an overall happy child. We feel very lucky that she has such an easy going disposition. I find that she has lots of energy – and the more running and park time we get, as well as regular sleep, the easier going that she acts.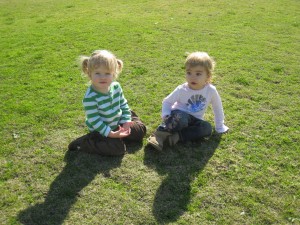 She eats a variety of foods – which make it alot easier to travel and take her out and about now. Our meals can include anything from meatballs, chicken, pork ribs, berries, broccoli, apples, peas, corn to yogurt, cheese, pbj rolls and even chicken noodle soup.
As I said, 2010 is moving quickly for us…We had a bunch of visitors out for the BCS National Championship Game (which unfortunately did not result in our favor, but we still had a good time). And then we spent a night up in HB visiting Nate, Terri & Kaelyn. Kaelyn and Bella are now finally at an age where they can interact with one another (it is so cute!) – I look forward to seeing their friendship grow, like ours has with their parents. Bella (and Mommy) had our first sickness of the year (B got ear infections in both ears as a result, and I am still fighting it currently…) And we went on a wild ride up to Mammoth Mountain (in the snowstorm of the century – 10.5 hour drive with a toddler – good times!) We spent a nice weekend up there with The Radcliffes', The Neals' and The Jollys'. Cliff, Bella and Kaelyn made quite the snow gang. I think the highlight for Bella was riding up high in the Gondola – she loved looking out and seeing how high we were (I definitely have a dare devil on my hands…) Dan & Suzy came by for a visit, and we even got a chance to see our other Valley friends on the slopes.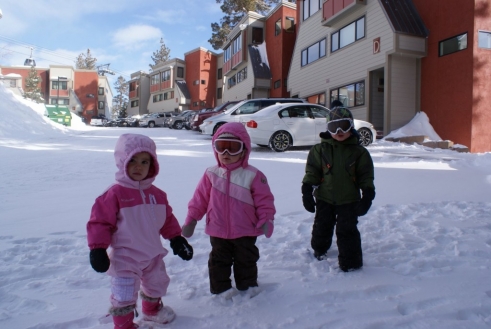 All in all a great trip…
And that brings us to the present…Today we went for B's 1 1/2 yr doc appt.
Her stats for the day:
Weight: 23.5 lbs (25%)
Height: 33.5 in (90%)
Head: 47 cm
Wow…really…ONE and A HALF years have gone by since my sweet baby was born. It seems like that is impossible – so short, yet so long. Life has changed so much for Jeremy and I…It is amazing how having a kid makes your realize not everything is about you. I feel like my eyes have opened to an entirely new world, and I'm so blessed in my new outlook. Seeing Bella grow and change and learn and experience the world all for the first time is awe-inspiring to me. Even on the days when I am frustrated, stressed and just plain tired (because believe me, I have those…) I realize I am very blessed to have a loyal, hard working husband and a sweet baby girl. Often I wish I could slow it all down, so that I could do it better (that is the perfectionist in me coming out), but I realize that I just need to enjoy each moment as it comes.
That is my wish for you, me and all our friends in 2010. Enjoy life and each moment as it comes – and move forward with peace in your heart and resolve to live the next day to the fullest…