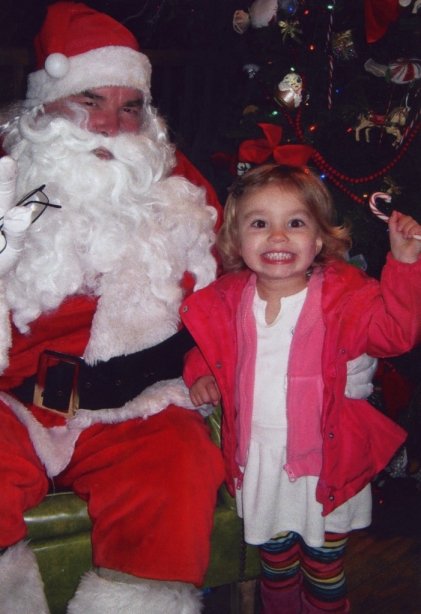 Tonight was the Neill Family traditional visit to the Garden of Lights to see Santa Claus. As usual, it was a great time – there was a children's choir onstage caroling, we roasted marshmellows, drank some mulled wine (at least the adults did), went on our horse drawn carriage ride through the children's garden…but the highlight was Santa.
Last year, Bella didn't like Santa very much…and wouldn't even go near him without both Jeremy and I there, and one of us even had to hold her. This year, I've really been trying to convince her he's a good guy. The day before Thanksgiving, we were running an errand at the outlets, and they opened up the Santa house there early. Since there was no one out shopping, and the place was empty, I suggested we stop by and just say hi to Santa. She walked into the house, and she immediately started backing into me, and wouldn't even take the candy cane that he was trying to bribe her with…I told her it was ok, just to give him a quick wave and we left. When we were walking out to the car, she said, "Mommy, I don't like that house, I don't want to go there anymore." I said, "No problem, we don't have to see him again today – don't worry about it." She said, "Mommy, I really just don't like Santa Claus."  "Really?" I said. "But if you don't like Santa Claus, he may not bring you any presents…" She said, "That's OK, Mommy…I don't really need presents."  Hmmmm….After Thanksgiving, we started reading the Elf On A Shelf Book. (She named our Quoca.) She loves the book, and looks for him first thing every morning…and I was hoping that the book was convincing her that since he was Santa's helper – Santa was a good guy. Santa even sent her a message through the computer (WHICH SHE LOVED!) Click Here to see it. And, tonight was the big night for our visit and photo op…The photo posted above was our second visit to Santa. The first visit went something like this. "Bella, want to go see Santa?" "Ok"…Standing at an arms length distance so he couldn't touch her with mommy trying to push her forward, "Hi, Santa, thank you for my computer message." "Ho, Ho, Ho – what would you like for Christmas sweetheart?" Bella backing up, "I'd like some furniture for my Doll House…" Mommy and Daddy, "Bella, want to sit on Santa's lap for a picture." "No." "Ok – how about you just go stand by Santa…" "mmm, I think I'll go stand by the Christmas tree." – Photo was snapped – smile was nowhere near happening. Then Santa said, "Let me give you your first Christmas present from Santa this year…and handed her a candy cane."  She reluctantly took it. Little did we know, this would be Santa's turning point.
After leaving the little gazebo with Santa, I unwrapped the candy cane and gave it to her. She loved it – it was her first candy cane ever. After all the fun of the evening, we were getting ready to head home and Bella asked if she could have another candy cane. We said we didn't have any…but Santa probably had more, she could go ask for one if she wanted, but Santa probably would only give her a second candy cane if she took a picture with him. It still took a little convincing once she was "on the stage", but once her little hot hand was on that candy and Santa wasn't letting go, she was willing to give us a quick – somewhat clench toothed  smile. The second that photo was over she was bolting down to us to open it up. What an evening!
Well, as usual, I don't have my act together anywhere near enough to actually get Christmas Cards out – so here's my computer version.
The Neill Family wishes you a VERY MERRY CHRISTMAS and a HAPPY NEW YEAR!!!