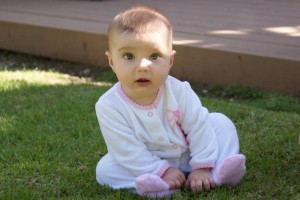 It was SOOOOOOOOOOOOO beautiful this weekend! We spent lots of time outside – went to the beach on Saturday and saw the most amazing sunset. Sunday, a few friends came by to watch the Chargers – we brought the TV outside. It was a kid-filled event, Kaelyn, Jack and Hart were in attendance. Bella practiced some of her sitting skills in the grass (she liked holding on to the green to keep her balance). She would last about a minute before toppling over – it was fun to watch her determination.
I also tried feeding her bananas this weekend. She did NOT like them. The face she made was priceless, and then she fake dry heaved a bunch. I wish I could have gotten it on camera – she was quite the drama queen. I gave her sweet potato this morning for breakfast, and she seemed much happier with the whole eating thing…
Last night was the first night since Christmas that she slept through the night!! YEA!!!!!!!!!!!!! Lets keep our fingers crossed she does it again tonight!